It has long been believed that these badges were worn only by officers of the 5th Battalion. However, photographic evidence in the Tiger and Rose (the regimental journal of the York and Lancaster Regiment) between 1902 and 1908 clearly shows officers of the 1st, 2nd and 3rd Battalions wearing this type of collar badges in their Service Dress.
It appears from these photographs that the collar badges all have left facing Tigers rather than inwards facing pairs. However some collar badges with loops exist with right facing Tigers exist (see below) which would suggest that at least some were made as inwards facing pairs.
At some stage in 1908 an order was given for all battalions to use the Tiger and Rose (third pattern) collar badge. It seems that the order for officers to wear the ordinary Tiger and Rose collar badge was ignored by the 5th Battalion and they continued to use 'cap badge' style collar badges sometimes with a separate bronze 'T' below the scroll. They continued to wear these collar badges up until 1936 when they were re titled as 67th (Y&L) Heavy Anti Aircraft Regiment, Royal Artillery.
Photographic evidence post 1908 of the 5th Bn shows that these were worn always with the Tiger facing left and not as inward facing pairs.
Photographs exist in the regimental archive of numerous 5th Battalion Officers wearing bronze collar badges of the same pattern of cap badges (some of these can also be found on pages 14, 31, 32, 66, 71, 77, 110, 128 in Cooksey, J Images of War, Flanders 1915. Pen and Sword 2005).
On first appearance, these badges look exactly the same as OSD cap badges. The feature that identifies them as collar badges rather than cap badges is that OSD collar badges are on loops whereas OSD cap badges are on blades.
There are at least three makers of these collar badges of which two are readily identifiable. Firstly, JR Gaunt whose cast bronze officer badges have a smooth, flat appearance to the rear of the badges and a pronounced indentation to the rear of the rose and crown.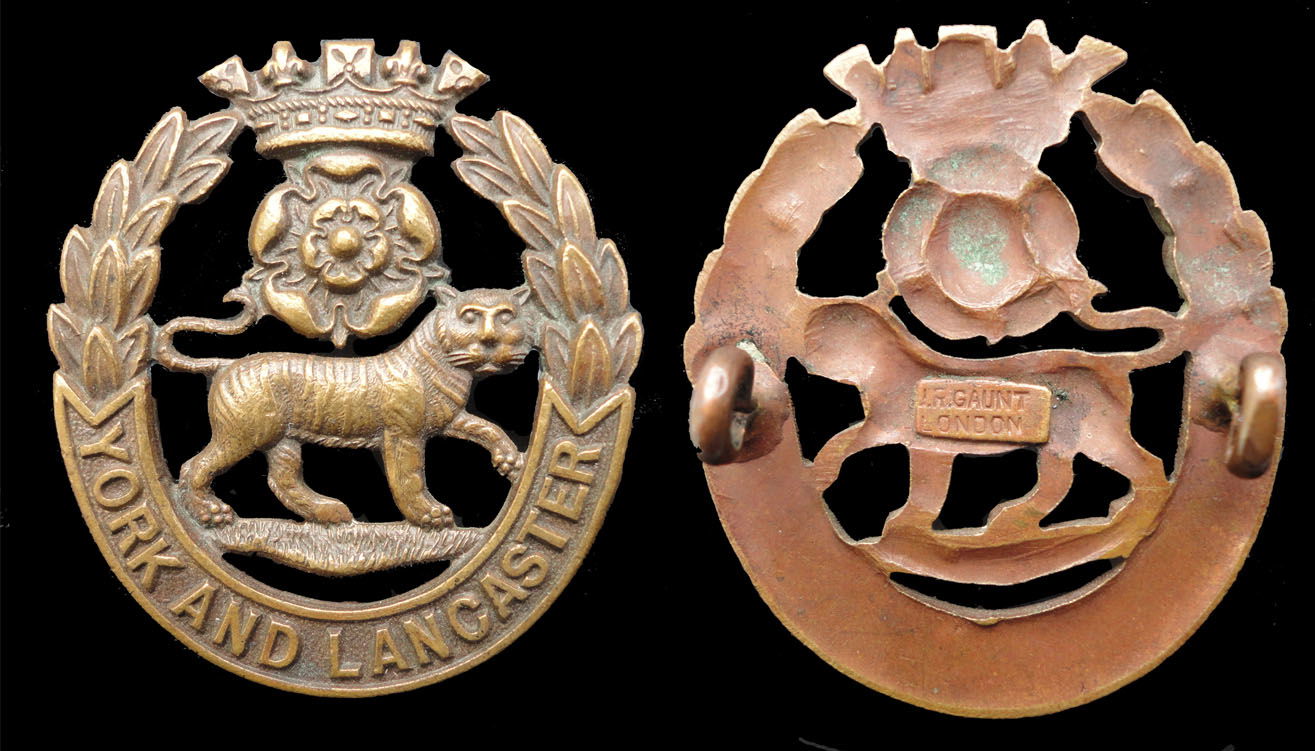 Secondly, J&Co (Jennens and Co) whose cast bronze badges with the rear details of the badge showing a pronounced hole to the rear of the rose along with an indentation to the tiger and the ground the Tiger is stood on. The front of the J&Co collar badges appear to have a die flaw under the letters 'L' of Lancaster and 'A' of And. Occasionally these badges can be found with the maker mark of J&Co. It can therefore be assumed that those badges with this particular flaw were all made from the same dies used by J&Co.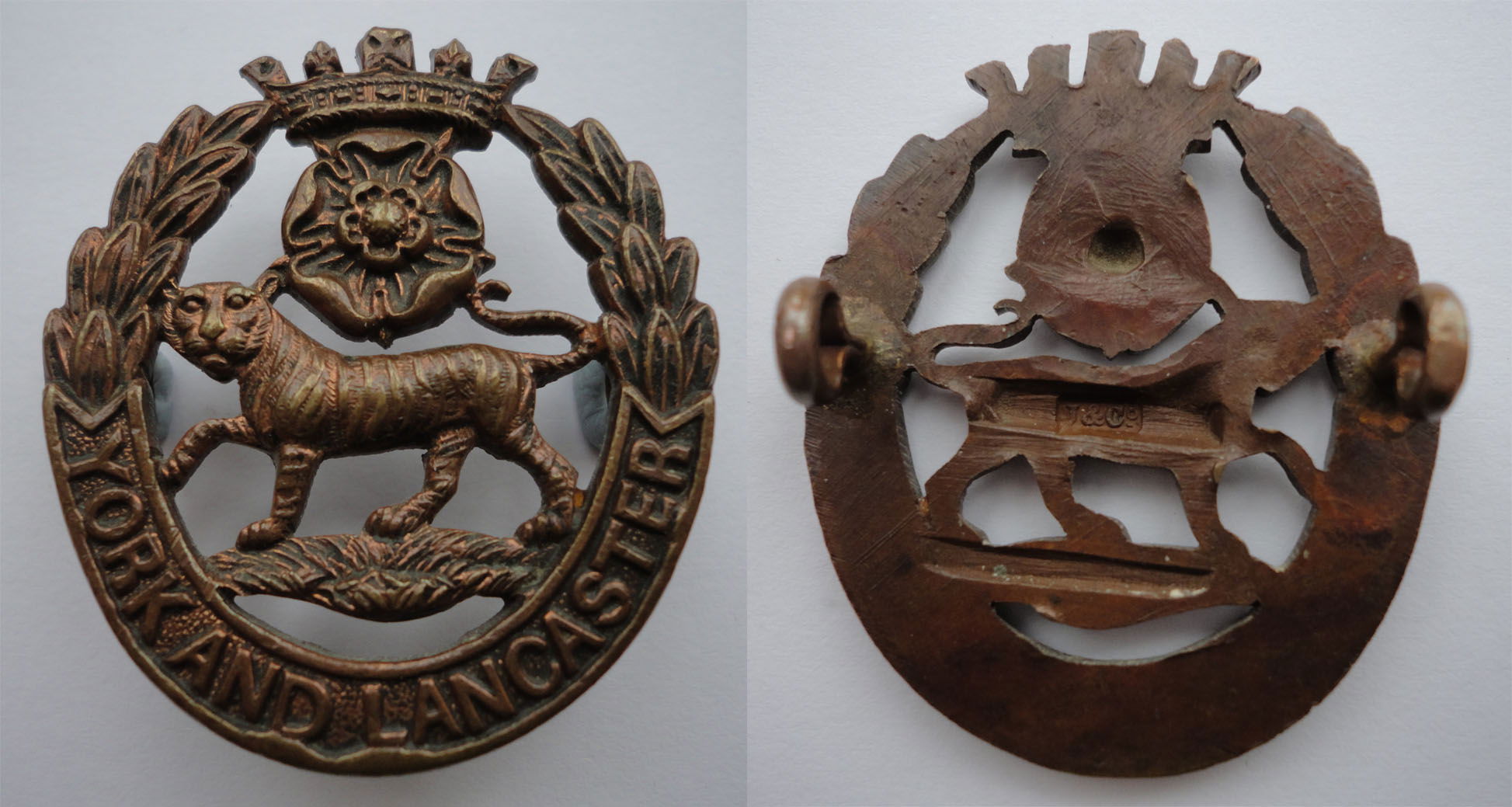 A series of photographs can be found in the Tiger and Rose, the journal of the York and Lancaster Regiment, showing groups of officers of the 2nd and 3rd Battalion wearing Service Dress with this type of collar badge (both collars left facing). These are:
Officers of the 2nd Battalion. York and Lancaster regimental journal dated Dec 1906 page 145.
The Rundle Cup and the team that won it-1908 G Company 2nd Battalion. York and Lancaster regimental journal dated November 1908 page 134.
'The Officers 3rd York and Lancaster Regiment at their last training as Militia. Regimental journal dated September 1908 page 105.